A.A.E had the privilege  of helping Samantha and her friends enjoy her 16th birthday party this past saturday.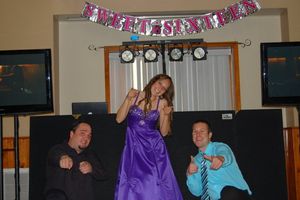 This event was outfitted with our two signature flat screens, along with music videos and zap photos.
 Our three man team consisted of mix master DJ Nicky G, Zap Photographer Josiah, and Emcee/DJ Jesse.  
From start to finish these kids were on the dance floor.  This event can be summarized in one word.  EPIC  Thanks again, from A.A.E